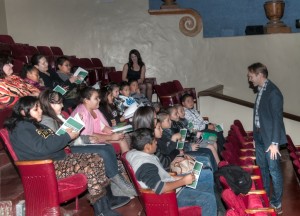 As the bus drew up to the Visalia Fox Theatre on symphony night, excited students from Pixley School looked up at the lighted marquee and couldn't repress their excitement about the upcoming concert. Most had never been to a big theater or attended a concert before.
The students had been invited to the concert as part of the Tulare County Symphony's plan to expose more youth to music and the many benefits it brings.
This season, new executive director Juliette de Campos decided to set aside tickets for schools from underserved rural areas. She will invite a different school to each concert and has received support from the Tulare County Board of Supervisors and use of the LOOP bus.
Symphony violinist and retired music teacher Janet Grizzell went to the school the week of the concert to give some background on the music and composers and also explained proper dress and etiquette. Just before the concert, music director Bruce Kiesling visited the students in their seats in the Fox balcony, introduced himself, and talked about what the students could expect that evening.
Music Education
For 55 years, the Tulare County Symphony has presented youth concerts for young students. This October, over 8,700 students were introduced to classical music and instruments in Visalia, Tulare and Porterville. In the last few years, the orchestra and
Symphony League have created several junior string and orchestra programs. In addition, each year the league gives out over 80 string scholarships so students can have private lessons.
But now the symphony wants to go several steps further. For the last five years, Kiesling was director of YOLA, Youth Orchestras of Los Angeles, which is sponsored by the L.A. Philharmonic. The program is just for underserved, low-income children who would not have access to playing an instrument without the program.
"That stunning program was a powerful engine of change for many young musicians and it is definitely my hope that we can have similar successes with students in Tulare County," said Kiesling.
Toward that end, the symphony is working with rural schools and Pro Youth Heart to find grants and other funding to bring similar music programs to schools that don't have the resources for music programs.
Partnership with Pro Youth Heart
The timing couldn't have been better when Pro Youth Heart Executive Director Daryn Davis came to the symphony with a dream of starting a music program in one of Pro Youth Heart's neediest after-school programs.
"We wanted a mentoring and teaching model," said Davis. "We know that such a program builds leadership skills whether the child continues to play an instrument or not."
She and de Campos are now working on a pilot program to find funds for instruments and an instructor in the spring at Woodville School, a school with few resources that serves 220 Pro Youth Heart children, primarily from farm worker families.
Rural Outreach
Realizing that many schools do not have the funds or transportation to attend the youth concerts, and that it would be difficult to fund music teachers in these schools, the symphony is working on a rural outreach program that would create a classroom toolkit that non-music teachers could easily incorporate into their curriculum. Another goal is to take small ensembles or string quartets to these schools, where they could play for the entire student body at an assembly.
The importance of music education is considerable. A number of recent studies confirm this. In the award-winning Harmony Project, underserved children in L.A. receive free instruments and instruction if they promise to stay in school. The study is finding that music instruction not only improves children's communication skills, attention and memory, but that it may even close the academic gap between rich and poor students.
"The goal is not merely musical skills, but life skills," said Kiesling. "Playing in a musical ensemble is a perfect metaphor for cooperation and participation in a group dynamic with different responsibilities around a shared goal."
Two other five-year studies are showing a change in the kids who are studying music. Making music appears to have lasting effects on both brain structure and brain function. Playing a piece of music involves the auditory, visual, motor and emotional centers of the brain. Brain scans reveal that there is more activity in the brain during a musical performance than there is during most other activities.
How to Help
"We know music changes lives and we want to share this gift with communities where it is needed the most," said de Campos, who has set up a donation site, www.tularecountysymphony.com/education.
"Funding for the arts in schools has dwindled in recent years, and pressure on us to expand our programs and serve more youth is high," she said. "We can only do this with increased financial support from the community. We are reaching out and asking service clubs, businesses and community-minded folks to invest in helping us grow these programs."