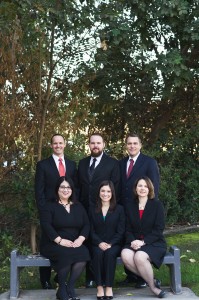 Kaweah Delta Medical Center has been named one of six recipients of the 2014 American Society of Health System Pharmacists (ASHP) Best Practice Award for a new approach to pain management for hospital patients.
Kaweah Delta Pharmacy staff will accept this national award the second week of December during an event in Anaheim. It will be the second award this year that the team has received for Kaweah Delta's Pharmacy Pain Management Service, a new approach to pain management that began approximately nine months ago at Kaweah Delta. It will also be the second time Kaweah Delta's pharmacy team has received national recognition for innovative best practices in pharmacy.
"This was a strategy that truly has helped improve patient care at Kaweah Delta," said Dr. James McNulty, Pharm.D., pharmacy director of Kaweah Delta Health Care District. "We have a great pharmacy team whose members are all top-notch, at the top of their licensure and committed to patient care."
Kaweah Delta's Pharmacy Pain Management Service was developed by clinical pain pharmacists Dr. Clint Brown, Pharm.D.; Dr. Yleana Garcia, Pharm.D, Board Certified Pharmacotherapy Specialist; and Richard Poirier, Pharm.D.; in collaboration with medical staff and under the direction of pharmacy management including Dr. James McNulty, Pharm.D; Pharmacy Director; Dr. Rheta Sandoval, Pharm.D., Inpatient Pharmacy Manager; and Dr. Nicole Gann, Pharm.D., Clinical Coordinator.
To date, the program has:
Resulted in 1,335 interventions to improve or optimize pain management for patients.
Increased patient satisfaction scores for pain management to their highest level since 2008.
Resulted in a 59% reduction in pain medication side effects.
Reduced the use of high-risk medications on patients.
Saved the district an estimated $1.6 million.
Through this new service, the team is available seven days a week to make recommendations to care providers about which medications should be given to patients to manage their pain. The team then reviews all medication orders placed by providers to determine if the medications ordered could cause a patient to suffer side effects. If that is the case, the team speaks with nursing/physician staff to mitigate potential risks by making recommendations to improve patient pain control and satisfaction.