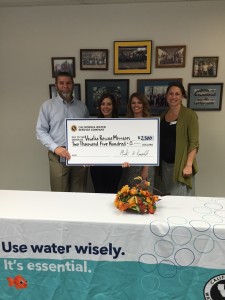 As part of its continuing effort to improve the quality of life in the communities it serves, California Water Service Company (Cal Water) presented contributions of $2,500 to the Visalia Rescue Mission, the Wounded Warriors Project and the Visalia Emergency Aid Council, through the company's "Operation Gobble" program to help make the Holiday season better for those in need.
According to Cal Water District Manager Scott Bailey, Operation Gobble donations do not come from water rates, but from the company's shareholders.
"Cal Water is committed to being a good corporate citizen and improving the quality of life in our community," Bailey said.
"Through Operation Gobble, our shareholders hope to make the Holidays a little brighter for our residents."
The Visalia Rescue Mission provides lodging and meals to the homeless, the Wounded Warrior Project assists wounded veterans during their recovery and transition back into civilian life, and the Visalia Emergency Aid Council provides food, clothing and transportation to those in need.
Cal Water serves about 132,200 people through 41,200 service connections in Visalia. The company has provided water service in the area since 1927. Additional information is at www.calwater.com.