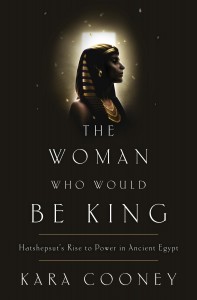 Porterville College's Cultural Historical Awareness Program (C.H.A.P.) fall schedule continues on Friday, November 7 when famed author, TV personality (Discovery Channel's "Out of Egypt"), Egyptologist and associate professor of Near Eastern languages and cultures at UCLA, Dr. Kara Cooney, will present a talk on "Hatshepsut: How a Woman Ascended the Throne of Ancient Egypt."
While many are familiar with the stories of Cleopatra and Nefertiti, perhaps the most powerful woman in ancient Egypt was Hatshepsut – the longest-reigning female pharaoh and a woman we hardly remember today. In this presentation, guests will learn about Hatshepsut's rise to power as Cooney paints a compelling and modern portrait of her life, the efforts decades later to erase the evidence of her reign and the modern struggles to understand her life and the place of women in the ancient world.
The talk will take place from 7-8pm in the PC Theater. The event is open to the public and free to attend. Parking permits will not be required for the event.
Porterville College is located at 100 E. College Ave. in Porterville. For more information, visit www.portervillecollege.edu or call 791-2200.