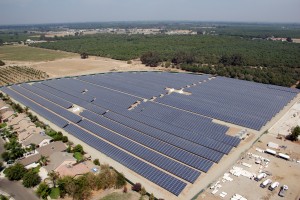 Panasonic Enterprise Solutions Company (Panasonic) and Coronal Group LLC (Coronal) announced the completion last month of their ninth solar project in Tulare and Kings Counties. The projects provide 16.2 megawatts (MW) of energy to Southern California Edison's grid to power approximately 14,500 homes annually.
The solar projects include two in Tulare, three in Farmersville, two in Hanford and two in Porterville.
"Significant solar projects are beneficial to the economy and how we produce and consume energy, but their financial and structural complexities are a big challenge for companies interested in adopting clean, sustainable energy," said Panasonic Eco Solutions Managing Director Jamie Evans. "The Panasonic-Coronal platform is a proven integrated business model that removes those obstacles, and helps to deliver affordable, reliable, clean energy."
Panasonic and Coronal acquired the California Renewable Energy Small Tariff projects from Macquarie Capital in 2013. A $50 million funding commitment by Ullico Inc., a labor union-owned insurance and investment company, also contributed to the acquisition and completion of the projects. The projects were built by Panasonic and ImMODO Energy Services Corporation.
"The completion of these nine projects, the first commercial projects to be finished under the Panasonic-Coronal platform, marks an important milestone and there are more in the pipeline," said Jonathan Jaffrey, CEO of Coronal. "Our total joint project development with Panasonic, now more than 100 MWs, is an indicator of both the success of our platform and the rising interest in solar projects."
"We are delighted with the successful completion of these Central California projects and look forward to others as our relationship with Panasonic and Coronal continues to develop. The Panasonic-Coronal team's ability to close this transaction quickly and without financial contingencies sets their platform apart," said Don Watson, president of ImMODO Energy Services.
Panasonic and Coronal Group currently do not have additional projects in the South Valley but, according to Weld Royal, corporate communications manager for the Panasonic Corporation of North America, "They are looking at potential or future projects in this area all the time."