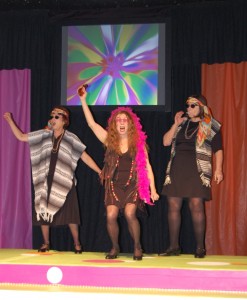 "Respect: A Musical Journey of Women" was the most successful show of the Visalia Players' 2013-14 season – a complete sellout at the Ice House Theatre. Now the community theater has expanded the show and will present it as a special fundraiser at the Visalia Fox Theatre at 7:30pm on Saturday, October 25.
The show combines excerpts from 60 songs with women's own stories over the decades about finding dreams, creating relationships and gaining independence. The performers are Marla Alberstein, Susan Mathews, Samantha Muse, Jenny Ponce, Karen Simpson and Ronnette Torrence.
Vanderbilt professor Dr. Dorothy Marcic created the show based on her book, Respect: Women and Popular Music, where she analyzed all Top 40 female song lyrics since 1900. She found that early songs depicted neediness and dependency with such songs as "Someone to Watch over Me" and "Where the Boys Are." Later in the century, songs such as "I Am Woman" and "I Will Survive" were more prevalent.
"We chose this show as our big fundraiser because it has such a powerful message about women's strength, without male bashing," said director Leeni Mitchell, who had many conversations with the author through email. "We wanted to make sure that it was not seen as a 'chick flick.' Dorothy did not write it to be an indictment of men, but rather to document the changes in the roles of women throughout the 20th century. By using Top 40s music that so many of us know and remember, it becomes a piece of nostalgia as well as a powerful statement."
Theatergoers can choose from three kinds of tickets. Reserved seating is $25. VIP seating for $60 includes a 6pm pre-show with gourmet appetizers and spirits at Tazzaria. Dinner tickets are $100 and include premium seating and dinner with wine at 5:30pm at Café 225.
Reserved and VIP tickets are available at the Fox Theatre, 308 W. Main, 625-1369 or www.foxvisalia.org. For dinner tickets, call Susan Mathews at 739-1449.
Proceeds will benefit the Ice House Theatre and Family Services of Tulare County.