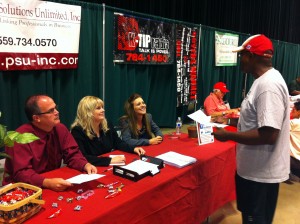 Tulare County jobseekers are becoming more professional and focused, and possibly younger, according to the differing opinions of the company representatives who interacted with them at the 23rd Annual Tulare County Job Fair, hosted by Tulare County Employment Connection at the Visalia Convention Center on September 24.
"They're more professional than in previous years, in the way they dress, and they are more courteous and there is more eye contact," said Randy Hendrix, program director of Momentum Broadcasting.
"They are better dressed," agreed Anna Lopez, purchasing manager for VWR International.
"You see a lot more professional people and they're willing to try anything," said Ana Fett, regional sales associate with Resource Employment Solutions.
There wasn't much agreement on whether there were more jobseekers in attendance than in recent years, however.
"There were certainly more people (this year), both older and younger," said Gracie Robles, human resources manager at Family HealthCare Network, who said that there have been good prospects among those visiting the FHCN booth. "We've seen a lot of medical assistants and a lot of these individuals are recent grads from local vocational schools."
Patricia Villegas, director of admissions for Milan Institute of Cosmetology, said this year was "a little bit slower."
"It seems a little slower," said Leisa Clemente, staffing and recruitment specialist for Personnel Solutions Limited. "Last year, we would have lines that would go back pretty far."
Sheri O'Hara, human resources manager at the Visalia Marriott, said attendance "was about the same."
"So far at this time, we have more than last year," said Jarrod McClintick, chair of the job fair committee. "They are pretty diverse. It's a good mix.
"There are definitely more employers," he added. "We're seeing a lot more expansion in manufacturing, the food industry and healthcare. There are over 500 job opportunities represented here today."
"There are less people," said Michelle Mendoza, corporate human resources manager for California Dairies. "It seems that the job market has a lot less people. They are older. They've been at their jobs for a long time and they're losing those jobs."
Mendoza also noted what she called a "skills gap," with companies unable to find qualified employers for specialized positions such as maintenance mechanics.
"We're always looking for great people," said Michele Borrayo, area leader for El Pollo Loco, adding that there was a local need for managers. She said that half of those submitting resumes were qualified for restaurant positions and the other half was "interested in just getting a paycheck and not caring for what we're trying to do."
Although most of those in attendance were looking for immediate openings, the schools participating in the show were busy attracting new students.
"We do well in both academic and career technical education," said Greg MacDonald, school counselor for Tulare Adult School. "We have waiting lists for both." Even with waiting lists, the school sees value in the local job fair. "We want to participate and get the word out that Tulare does have an adult school."
Representatives from China Peak had a booth to help them in their efforts to hire about 300 people for seasonal jobs. Most of those workers will likely relocate there for the winter, according to Sherry Nolen, group coordinator. "We get a lot of summer firefighters," she said.
"We're finding that the workforce is more fresh out of school or transitioning from one industry to another," said someone in the food industry who, after supplying the best quotes of the day, said she couldn't be quoted in a newspaper. "There are more people giving us their resume and asking, 'What have you got?' There are probably 10% who are qualified for specific jobs, and 20% may meet some requirements but not all. The rest are just hoping for the best."
Carrie Groover, general manager of the Visalia Marriott, said she would like to see two county job fairs a year, one in the spring and one in the fall. "It's better than putting an ad in the paper and hoping people will see it," she explained. "We've hired at least one person from every job fair we're ever done here."