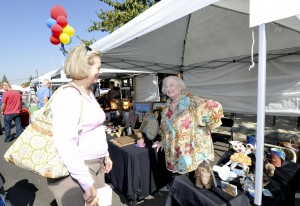 Taste the Arts, the area's biggest annual celebration of the artistic diversity and cultural heritage of Tulare County, returns to Downtown Visalia on Saturday, October 11, beginning at 11am, with a free, all day festival of artists and performers stretching from Garden Street on Main, north to School Street, and into the old Lumber Yard.
The festival, now in its fifth year, is the signature event of the Arts Consortium, and this year promises more artists, more performers, and more variety than ever, including a free performance of a local theatre production and Taste the Arts After Dark.
Over 70 visual artists from throughout the county, representing a wide variety of genres, will show and sell their work. Artists will be onsite from 11am to 5pm to share their techniques and inspiration and, of course, to sell you a unique piece of art.
Provost and Pritchard, on the east side of Garden Street, opens at noon with an indoor exhibit of the Visalia Visual Chronicle, a curated collection of art by selected local artists. At the north end of the street, Arts Visalia at 214 E. Oak, hosts Taking Art to the Streets, an exhibit of Urban Art. Across the street at the Lumberyard, workshops on urban art and printmaking are free and open to the public.
Step around the corner to 303 N. Garden for a peek at a working art studio and demonstrations, and a special exhibit of work by Pro-Youth/HEART students, which includes a hands-on activity area for youth.
In addition, COS Printworks will be at the Lumber Yard demonstrating their process and selling customized printed items. A special exhibit of work by Pro Youth HEART students includes a hands-on activity area for youth.
"Fun with Food Sculpture" in the Lumber Yard will encourage children and adults to fire up their imaginations and create art using produce provided by the Farmers' Market.
Urban art fills the Lumber Yard from 11am to 10pm. In addition to the Garden Street artists, over 35 urban artists from around the region will exhibit in the Lumber Yard, with several demonstrating their techniques. The Step Up Urban Challenge will take place from noon to 4pm with selected artists competing in creating aerosol art themed to the Step Up message. Free workshops offer opportunity to try a new art form or sharpen your skills in the following areas: Spray 101 at 1pm, Stencil Art at 2pm, and Mural Painting at 3pm.
Musicians and dance groups kick off at 10:30am in the Plaza and 11am at the Lumber Yard with the first of over 20 live performances. The Lumber Yard stage will host larger groups, including Japanese Taiko, fire dancers, large vocal groups, a brass ensemble and several local dance groups. Garden Street Plaza will feature vocalists, bands and musicians ranging from bluegrass, indie/Americana, Irish folk, zydeco, blues and rock.
A special, free performance of "The Secret Garden" is offered at 4pm in the Main Street Theatre on Garden Street Plaza. It is the story of an orphan, sent to live with her brooding uncle, who finds beauty and hope in a secret garden beyond a hidden gate. Families and children in 3rd grade and above will enjoy this adaptation of the classic children's book as performed by the Enchanted Playhouse Theatre Company. For more information, go to enchantedplayhouse.org.
Visalia Community Players are offering a two-for-one discount for the October 11-12 performances of "A Trip to Bountiful" if you mention Taste the Arts. Reservation information is online at visaliaplayers.org.
Over the decades, this valley has inspired many who create with the written word. Several local authors will be selling their books, which include a variety of genres, from children's books to local history, poetry, and adult and juvenile fiction and non-fiction. They will be happy to sign your purchase.
The Urbanists Collective and CA Looks Salon will keep things hopping long after 5pm when the street booths close. At the Lumber Yard, The Urbanists will continue demonstrations and hands on activities with muralists painting into the night, beats (music) from 5-8pm, and a B-Boy Battle from 8-10 pm. B-Boy competitions are a fast paced dance event with performers showing off their best acrobatic moves in an attempt to best the others and win cash prizes.
Meanwhile, at Garden Street Plaza, CA Looks Salon will host Taste the Arts After Dark from 6-8pm. Performances will showcase additional urban art, including graffiti art, photography, and hair artistry and fashion by CA Looks and Bolings Barber Shop and Shave parlor. Musicians and dance groups will perform onstage, and food and beverages will be available.
This one-day festival promises to be even bigger than last year. For more information on the Arts Consortium and arts in Tulare County, including a yearlong calendar of events, pick up the free Taste the Arts Magazine or visit artsconsortium.org or "Arts Consortium" on Facebook.