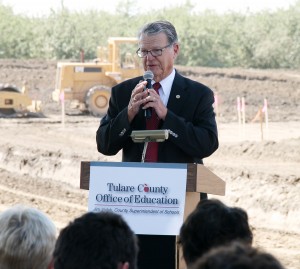 Separate groundbreaking ceremonies were held on September 10 for two new Tulare County Office of Education buildings: an administration building/conference center and a new planetarium.
The new three-story administration building, at 6200 S. Mooney Blvd. in Visalia, will include 66,000 square feet of office space. Its offices will serve the Tulare County superintendent of schools and the TCOE's business services, instructional services, human resources and special services divisions.
The building's 27,000-square-foot conference center can provide theater-style seating for 1,000. The new kitchen will be able to prepare food to accompany the up-to-450 that can be seated for meals. Events such as science fairs, career fairs, spelling bees and California Teachers Association events will be held there. The room will also be rented to other groups.
"It has been designed for flexibility of use," said Christopher McLain of Mangini Associates, Inc., the architects of both projects.
"We can close the room off into eight smaller conference rooms that can accommodate 100 people each."
In his remarks at the groundbreaking, Tulare County Superintendent of Schools Jim Vidak briefly shared the 160-year history of schools in the county, noting the several locations where TCOE has leased space for its administration needs. "We're proud to begin construction on a home of our own," he said.
"We currently are tenants of Tulare County," said John Caudle, deputy superintendent. "And the county wants to use our existing sites.
"We've never owned our own facility," he added later. "The board and Jim (Vidak) and myself really feel it's a good investment to have our own facility. I think it's going to serve the county well."
The new administration building, which is expected to be completed in September 2015, is estimated to cost $28.7 million, and the planetarium has a $3.9 million price tag. Paying for the projects involves a certificate of participation, which is something like a mortgage that can be paid over time. It also involves charging various TCOE programs rent for use of the new administration building, which they can pay with state funding.
"Some of those programs are paying rent to privately owned buildings," Caudle said.
The planetarium building, at the southwest corner of Mooney Boulevard and Avenue 264 in Visalia, will have nearly 8,700 square feet of space and will feature a 70-seat planetarium and an 1,800-square-foot, hands-on science center. The planetarium building is expected to be open in time for the 2015-16 school year.
The first TCOE planetarium was established at Snowden Elementary School in Farmersville in the mid-60s, noted Vidak. It was moved to a building at the Tulare County Fairgrounds before finding a home on Burrel Avenue in 1976, and moving across the street in 2003. Under the direction of planetarium supervisor Sam Peña, Peña Planetarium is now visited by 24,000 students and adults annually.
"They've kind of outgrown that location," said McLain. "The new building has a large exhibit room." He explained that the new science room can keep 70 students interested and occupied while another 70 watch a presentation in the theater.
"The science room is something we're going to be developing," said Impact Center Supervisor Conan Palmer. "It will be an exhibit where the displays are interactive."
The new planetarium will also feature videoconferencing.
"There are resources made available by other planetariums and even NASA," said Palmer. "Students will be able to speak to scientists at locations all over the world. NASA has dedicated resources where students can engage and talk to its scientists, and the Smithsonian offers virtual tours."
The new planetarium building is expected to be completed by April, except for moving in the dome, seats and projection system from Peña Planetarium.
"They're going to refinish the dome and reinstall it," said Gilbert Bareng of Mangini Associates, adding that the process should take about a month.
"The motive for holding off (until next September) is because our attendance is just over 12,000 between April and June," explained Palmer. "If we moved in April, it would take away the availability for that many students."
McLain estimated that Mangini Associates, Inc. has designed "50 or 60 buildings" for TCOE in the last 20 years.