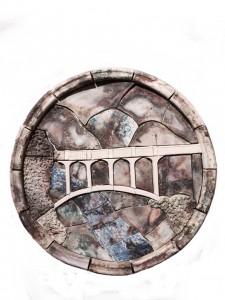 One of the most anticipated exhibitions held at Arts Visalia is our annual sculptural exhibition titled "That Extra Dimension," featuring recent works by 35 artists from throughout Central California.
The primary goal behind this exhibition is to shine a spotlight on the array of styles and working methods employed by contemporary artists working here in Central California. Traditional sculptural materials like wood, marble, metals or ceramics are at use in many pieces, while other artworks in the show may be constructed of less traditional sculpture materials. What is consistent throughout the works in the show is the quality of craftsmanship and skill on display.
While many of the artists with work in the exhibition have been in past installments of this exhibition, this year's show will also feature several new faces. Among these will be the beautiful, Asian-inspired ceramics of Kingsburg artist Jim Gregory, figurative sculpture by Santa Barbara artist Barbara Federman, and delicate sculptural pieces by Visalian Fern Allen.
In all, the show includes works by the following artists: Mark Ahlstrand, Fern Allen, Richard Arenas, Toni Best, Derek Borges, Diane Burke, Carole Clum, Antonio Cuellar, Mark Eaton, Barbara Federman, Richard Flores, John Friedrich, Edward Gillum, Jim Gregory, David Griswold, Anne Haxton, David Hicks, Jerry Jonnum, Shirley Keller, Kris Kessey, Paul Lagatutta, Moni Mauch, Sam McKinney, Joe Morel, Esther Perez, Mike Perez, Marn Reich, Joan Siebel, George Smith, John Sundstrom, Sherley Tucker, Gregory Tune, Linda Victory and Russell Wright.
That Extra Dimension 2014 will be on display at Arts Visalia, 214 E. Oak Ave., Visalia, September 5-26, with an opening reception on Friday evening, September 5th, from 6-8pm. Attendance is free and open to the public.
Gallery hours are noon to 5:30pm Wednesday through Saturday. For more information, call 739-0905 or visit www.artsvisalia.org.
Kevin Bowman is the director of Arts Visalia and an instructor of art at College of the Sequoias.