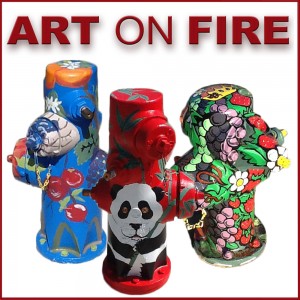 In the fall of 2012, Arts Visalia spearheaded the painting of 20 fire hydrants up and down Visalia's Main Street. The project, called "ART on FIRE," had a dual purpose of adding color to the downtown while also raising funds to support Arts Visalia, the community's main visual art center.
Artists submitted design proposals, which were then painted on the hydrants throughout our beautiful downtown. The project turned out to be quite a success and now, two years later, plans are in place to do it again.
New design proposals are being sought from artists for a new batch of fire hydrants, which will be painted in late October and early November. Artists may download the proposal guidelines at artsvisalia.org or stop by the gallery to pick up a copy.
Sponsors are also being sought for each painted hydrant to help support Arts Visalia's year-round calendar of art programs for the community. For sponsorship information, contact Arts Visalia at 739-0905 or [email protected].
Arts Visalia is located at 214 E. Oak Ave. in downtown Visalia. The gallery is open Wednesday through Saturday from noon to 5:30pm.