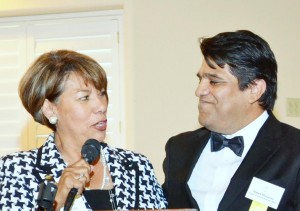 Ruben Macareno has accepted the role of campaign advisor for Virginia Gurrola, Tulare County Board of Supervisors candidate for the 5th District. He intends to utilize what he has learned from participating in a series of campaign meetings to make this a good old-fashioned campaign to win the 5th District position.
"Virginia is a great candidate and will be a great addition to the board of supervisors," said Macareno, who added that the race is non-partisan and he is not joining the campaign because she is a Democrat, but because she is simply the right person for the job.
"We have seen how Ms. Gurrola is approachable but yet doesn't back down from a political fight," said Macareno. "This is what we need in a leader and she has proven that over and over again."
Macareno is a publisher by profession. His background includes working at the Los Angeles Times as a newsroom administrator, and several political stints in Washington, D.C. and Los Angeles, including his most recent run for the California State Assembly.
Gurrola, currently a Porterville City Council member and a longtime community leader, has also brought in Martha A. Flores, a lifetime resident of Porterville known for her history of community service, to join the campaign's advisory committee. Flores brings her experience and political network to the campaign.
"I believe she will make the difference to all the demographic populations in District 5," said Flores of Gurrola. "She is the right choice and voice."
Flores, who retired in 2010 after a long career at Porterville Unified School District, has a political history that includes serving as campaign manager and numerous other leadership campaign positions for candidates running for the board of supervisors, sheriff, city council and school board.
Flores was elected to the Sierra View Hospital Board in 2008 and has served as treasurer for a bond initiative. She was also a board member of Family HealthCare Network, Central California Family Crisis Center, Tulare-Kings Hispanic Chamber of Commerce and Youth Services Foundation.