Sound N Vision Foundation marks its 10th anniversary this month with shows headlined by Woods, The Mattson 2, Helio Sequence and Man Man. The schedule includes the first ever SNV all ages show at the Cellar Door on August 17.
On Tuesday, August 12, Woods and Skygreen Leopards perform a 9:30pm (21+) show at the Cellar Door in Downtown Visalia. Tickets are $10.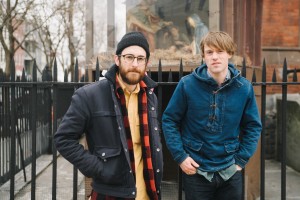 Woods' brand of pop shamanism has undergone several gradual transformations over their past few albums, but on their latest, With Light and with Love, the tinkering reveals an expanded sonic palette that includes singing saw, heavier emphasis on percussion, and a saloon piano that sounds like it was rescued from a flooded basement.
The group's profile is high, with consistent rave reviews in all major media outlets, and festival performances that include The Pitchfork Music Festival, Hardly Strictly in S.F., etc.
If you've ever thought of Woods as a pop group comprised of weirdos, or a weirdo band that happens to excel at playing pop songs almost in spite of itself, With Light and with Love provides a corrective in the form of songs that show these two elements as natural, inextricable bedfellows. Throughout the album, vocals are frequently emitted through Leslie speakers and guitars perform one-string ragas like Sandy Bull reared on shoegaze and skate videos. With Light And With Love is an album of deeply psychedelic, deeply satisfying songs for a new age of searchers, of Don Juan and Animal Chin alike.
Label-mates Skygreen Leopards are a magical psych-pop band from San Francisco, exploring unique perspective and clever wording atop well-constructed and whimsical music.
In order to represent all ages of the community, Sound N Vision Foundation will be having two concerts on Friday, August 15th to celebrate our ten years of booking events. The first party will be an intimate all ages free concert at Velouria Records, 101 W. Main St., Visalia, with The Mattson 2 performing at 7pm. Then, the party continues for those 21+ that same night with a 9:30pm show at Cellar Door when the Mattson 2 play once again, this time after opening band Taco Wagon. Both events are free, but donations are welcomed.
If you could soundtrack the jangle of the sea and the jazz of the surf, the Mattson 2 would most certainly be the composers. The foot stomps of a shoe-gazed salty air meets the tight groove and polished shake of the night with each of the duo's multi-layered tracks. Audiences around the globe are witnessing the growth of two musicians (actual twin brothers) hitting full stride with deft layering, detailed composition and an altogether unmistakable sound.
With their signature suits in tow, both Jared and Jonathan have relentlessly toured throughout Brazil, Paris, Spain, Japan, Denmark, Finland, the Netherlands and the United States, generating global acclaim while also further curating their sound into a musical kaleidoscope that brings to mind everyone from Charles Mingus and Chet Baker to the Smiths and the Jesus and Mary Chain. They have acquired a pair of bachelor's degrees in music with an emphasis in jazz and African studies from the University of California San Diego, and even more recently received their masters of fine arts degrees in music from University of California Irvine. At UC Irvine, they were a part of the Integrated Composition, Improvisation and Technology program (ICIT). The boys have grown up quick, accomplishing more in a short time than many musicians in their entire career, and thus further providing a mature sound that is equally at home on the beach as it is in the jazz club.
Visalia's own Taco Wagon will warm up the stage with their unmistakable surf-rock tuneage.
On Sunday, August 17, Helio Sequence and Liam Finn perform a 7pm all ages show at the Cellar Door in Downtown Visalia. Tickets are $10 in advance, $12 at the door.
Portland, Oregon Sub Pop Records giant The Helio Sequence have played some of the most memorable live shows in Visalia, but haven't been in town for five years. This long-awaited return to Visalia is in support of the band's new record, Negotiations, the fifth full-length album written, recorded and produced by the band.
For the past decade, The Helio Sequence has been one of the more influential bands in the Pacific Northwest indie rock scene. As independent music has become more popular and entered the mainstream consciousness, concerts by experienced indie bands like The Helio Sequence have become increasingly sought after. Having the band return to Visalia is a special event.
Their new album is collection of shimmering, reverb-heavy songs is a meditation on those inner dialogues with solitude, memory, misgivings, loss, atonement, acceptance and hope. Most of all, it's a record that serves as a testament to the beauty, blessing and excitement of a fresh start.
Kicking off the night is New Zealand's Liam Finn. Finn tours in support of his new record, The Nihilist, that touches upon MGMT and Flaming Lips terrain.
On Friday, August 22, Man Man and Landlady perform a 9:30pm (21+) show at the Cellar Door in Downtown Visalia. Tickets are $13.
Man Man is a fearlessly unique band from Philadelphia. Sound N Vision Foundation has hosted hundreds of shows, but the 2005 Man Man show remains one of our most talked about shows to this day. Since then, the band has honed their craft with every album release and lengthy tours.
Man Man's fifth full-length album, On Oni Pond, is a compelling mash-up of Fear of Music-era Talking Heads, classic soul, psychedelia, hip hop and '50s rock and roll. With its imaginative yet economical rhythms, huge hooks and overriding sense of urgency, On Oni Pond melds these seemingly disparate influences into an unexpectedly lush, melodic album, exquisitely consolidated by the band's unique and affecting vision.
"This is a strange and beautiful record but it's also head on and fearless," says main-man Honus Honus. "It's not a record that's going to flirt with you, this is a record that's asking you out. If you get into bed with us there's going to be a relationship."
Brooklyn's Landlady will kick off the night. The large group creates a unique sound that pulls from varied influences: Sly and the Family Stone, The Pixies, Os Mutantes, Gilberto Gil, The Flaming Lips.
For tickets, visit Ticketweb.com. For more information, visit snvfoundation.org.
Aaron Gomes is the executive director of Sound N Vision.