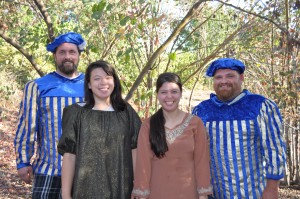 The ninth annual "Shakespeare in the Plaza" presents the timeless comedy "As You Like It." Show dates are August 7, 10, 14 and 16 at dusk (about 8pm). The location is the stage at Sweet Brier Plaza in Downtown Lindsay. Admission is free, and refreshments will be available.
"As You Like It" is set in a duchy in France, but most of the action takes place in the nearby Forest of Arden. Duke Frederick (Val Saucedo) has usurped the Duchy and exiled his older brother, Duke Senior (Charles Hickinbotham), who flees to the Forest of Arden. The duke's daughter, Rosalind (Grace Loeffler), has been permitted to remain at court because she is the closest friend and cousin of Frederick's only child, Celia (Audrey Loeffler).
Orlando (Chris Shepard), a young gentleman who has fallen in love with Rosalind, is forced to flee to the forest with his servant Adam (Jim Kliegl) after being persecuted by his older brother, Oliver (Tom Crowe). Later, Frederick becomes angry and banishes Rosalind from court. Celia and Rosalind decide to also flee to Arden, with Rosalind disguised as a young man, Ganymede, and Celia disguised as his poor sister, Aliena.
Rosalind and Celia arrive in the forest, where they buy a shepherd's house and hire a shepherd, Corin (Jack Burton) to attend their flock. Orlando, meanwhile is littering the forest with love poems to Rosalind. She encounters him as Ganymede and tells him she can cure him of his love-sickness if he will pretend that she is Rosalind and woo her as such. Ganymede will attempt to show him how unworthy Rosalind is of his love. He accepts the challenge and swears that "he" cannot destroy his love for Rosalind.
There are other lovers who also people the Forest of Arden. One is Silvius (Erick Soto) who is madly in love with Phoebe (Kelly Moua). She distains his love, and when she meets Ganymede, falls madly in love with "him." Another is Jacques (Jeremy Waterman), a servant of Duke Senior, who meets, woos and wins Audrey (Claire Buzzelli), a country shepherdess. Jacques must first run off William (Emmanuel Robles), who also loves Audrey. And lastly there is Oliver, who has a change of heart, and then loses his heart to Aliena.