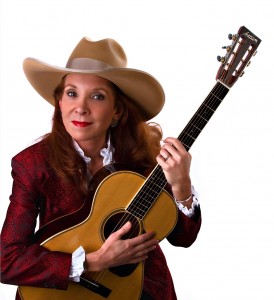 Mavericks Coffee House will welcome western singing artist Juni Fisher for a 7pm concert on Friday, August 22.
Fisher, who was born and raised in Strathmore, started out as a horse rider and trainer, but soon turned her talents to writing and singing songs about the cowboy and cowgirl way of life.
In the last few years, the Western Music Association named her solo musician of the year, female performer of the year and entertainer of the year. Last year, she was nominated for five more awards, winning for WMA Song of the Year. This year, she won the WWA Spur Award for Song of the Year.
For tickets ($25) or more information, call Mavericks at 624-1400, or stop by at 238 E. Caldwell Avenue, Visalia.