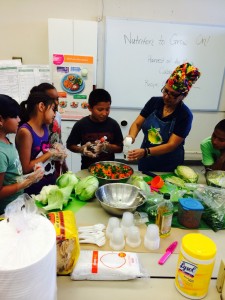 An old proverb states that it takes a village to raise a child. The teachers at Pixley School believe it is not just a village, but a unique combination of community agencies, good curricular material and a little bit of dirt.
In Pixley, they are growing healthy kids in their school garden. The recipe includes:
One motivated third grade teacher, Fidel Garcia, to present his plan to the Tulare County Farm Bureau, California Ag in the Classroom, the Dairy Council of California, and Life Lab.
Applications for grants from all of those agencies.
The assistance of Garden Enhanced Nutrition Education educator Grilda Gomez from the University of California Cooperative Extension.
A group of dedicated third graders.
Supporters like Bonnie's Plants to provide seeds for cabbage, zucchini and onions.
Work and cooperation, with Mr. McGrady's class researching and planting the herbs, while the classes of Mr. Garcia and Mr. Gutierrez plant in the main garden.
A lot of watering and weeding.
Mrs. Gomez, University of California Cooperative Extension and the students used the harvest to prepare fresh coleslaw that included the six plant parts that were learned as part of her curriculum.