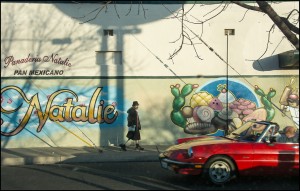 The Tulare Historical Museum will exhibit photography by David Meyer and Richard Harrison in its Heritage Art Gallery from July 31 to September 27. A reception to meet the artists will be held on July 31st between 5-7pm. Events at the gallery, located inside the Tulare Historical Museum, are always free to the public.
Meyer calls his exhibit "What You Saw, But Not the Same," and explained, "Beauty has its many proponents and that is right and proper. However, my photographic passions are concentrated upon the ordinary. There are times when the ordinary becomes extraordinary. I attempt to use my photographic endeavors to capture the things that often fly under the radar. It is intriguing to me how much of our surroundings go unnoticed. And that's the fascination."
Harrison likes to photograph images of the San Joaquin Valley. He says his photographs are of "The Middle Kingdom of California," a title that was coined by his wife late one foggy winter afternoon north of Woodlake. He likes to call it that, because each small town in California's Central Valley differs in both appearance and personality.
"Knowing a good thing when I hear it, I immediately stole the idea and applied it to a project I had been thinking about the last couple of years," Harrison said. "This was only the beginning of The Middle Kingdom project. Little did I know how much work lay ahead or the many rewards and interesting places I would visit or people I would meet.
"Originally, the goal was to take places and buildings located in the Central Valley," he continued. "Reality struck when I looked at a map with a seemingly endless number of small towns sprinkled across the Valley. Focusing on its people was a natural progression."
The museum is located at 444 W. Tulare Ave., Tulare. Hours of operation are 10am to 4pm Thursday-Saturday. For more information, call 686-2074.