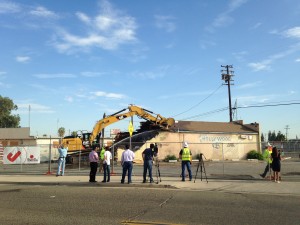 On July 14, construction of the California High-Speed Rail began in Fresno with demolition and ground-clearing operations as part of Construction Package 1. This is the first length of track to be laid in the state, stretching 29 miles from Avenue 17 in Madera to East American Avenue in Fresno. Ceding space for the line was the long-closed Annie's Hollywood Inn bar on Fresno's North Golden State Boulevard. The boulevard will be relocated.
The California High-Speed Rail Authority design-build contractor Tutor-Perini/Zachry/Parsons began work in the morning, with its subcontractor J. Kroeker, Inc. demolishing the 66-year-old building. J. Kroeker Inc. is a women-owned small business headquartered in Fresno.
The Authority is responsible for planning, designing, building and operation of the nation's first high-speed rail. By 2029, the system is expected to run from San Francisco to the Los Angeles basin in under three hours at speeds exceeding 200 miles per hour. The system will eventually branch to Sacramento and San Diego, covering 800 miles with up to 24 stations.
The Authority is working with regional partners to implement a statewide rail modernization plan that will invest billions of dollars in local and regional rail lines to meet the state's 21st century transportation needs.