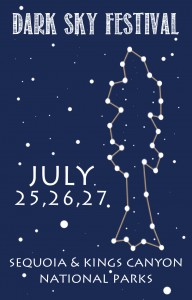 The night sky in Sequoia and Kings Canyon National Parks is nationally recognized. Darkness not only adds to the aesthetic qualities of the wilderness, but it is important to the health of park wildlife. The Dark Sky Festival aims to educate visitors about the importance of this park resource and inspire them to take action in their own community.
The festival is an opportunity to share a passion for the night sky and astronomy during a weekend that will include: constellation tours, telescope viewings, solar observations, astronaut speakers, kids' activities, speakers on robotic Mars missions, model rocket building, National Park Service programs, special Crystal Cave tours, nature walks, audiovisual presentations and photography presentations.
A complete schedule is available at www.sequoiahistory.org/default.asp?contentid=785.