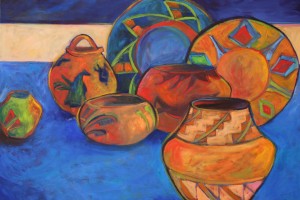 Betty Berk is showing a retrospective of her still life paintings at Michael's Custom Jewelry in Downtown Visalia through July and August. There will be an artist's reception for her during the First Friday event on August 1.
Her "shoe" paintings are a fun display of bold femininity. Some of the still lifes honor Navajo patterns in her own creative designs. In her more recent works, you'll see beautiful color and vibrant brushwork. These paintings demonstrate the influence of her other passion, playing the piano, as musical notes and arpeggios are brushed on with painted colors.
Berk has been involved in the arts all of her life. Her accomplishments include many awards and exhibits throughout the San Joaquin Valley. She is the exhibits director of Alliance of California Artists and teaches art at Dinuba High School. She developed and chairs the Dinuba Festival of the Arts, a school district and citywide celebration of the arts.
For more information, visit www.bettyberk.com.