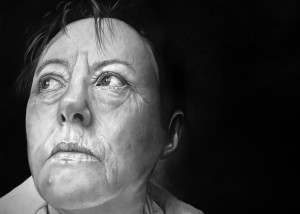 Returning to Arts Visalia this week is the 2014 North American Print and Drawing Exhibition. A competitive exhibition with significant cash prizes, artists from throughout the United States and Canada were invited to submit artworks for consideration for inclusion in the show. In total, 84 artists submitted 235 artworks. Forty pieces by 37 artists were chosen for the exhibition and will be featured in the exhibit at Arts Visalia through the month of July.
Visitors will see a wide array of works in terms of technique, subject matter and artistic direction. Because we in Visalia, and the Central Valley as a whole, are somewhat isolated from the galleries and museums of major metropolitan areas, this exhibition provides our community a view of cutting-edge, original artworks. It truly is an exceptional showing of contemporary art and one that we at Arts Visalia are proud to present.
The variety of styles and approaches to making art as evidenced by the works on display is striking. Perhaps this is reflective of the fact that among today's artists there is no single overarching trend that dominates. Instead, one sees in these works everything from highly abstract, non-objective works to highly representational, photo-realist images as well as a fair number of conceptually charged, socially aware visual statements.
The juror for the exhibition, and thus the person responsible for the considerable task of reviewing each artwork submitted in order to select the works that would be included in the exhibition, was California State University Professor of Art Roxanne Sexauer. Professor Sexauer holds bachelor of fine arts and master of fine arts degrees in printmaking, having studied first with Mauricio Lasansky at the University of Iowa and later at the State University of New York at Purchase, with Antonio Frasconi. Her work has been exhibited widely throughout the United States and abroad and is included in many public and private collections. Having joined the faculty of CSU Long Beach in 1989, she teaches printmaking, drawing and the history of printmaking and drawing.
The inclusion of one's work in a juried exhibition of this scope serves to enhance an artist's resume and affords them the opportunity to compare their work to that of other artists. Similarly, visitors to the exhibition will have the opportunity to see artworks by artists they are not likely to have encountered previously, to get a sense of what professionals in the fields of printmaking and drawing are making right now.
A handful of artists with Central Valley roots had works selected for the show, including Amie and Matthew Rangel, formerly of Visalia, Laura Melancon of Woodlake, Jessica Robles and Francisco Alonso, both of Visalia, Matthew Hopson-Walker and Jessie Martinez, both of Fresno and Rogelio Gutierrez, formerly of Visalia and now a professor of art at the University of Arizona.
The exhibition will be on display through July 25th, with an opening reception to be held on the evening of Friday, July 11th from 6-8pm. Admission to both the exhibition and the reception are free and open to the public. Arts Visalia is located at 214 E. Oak Ave. in downtown, Visalia. Gallery hours are Wednesday through Saturday from noon to 5:30pm. For more information, visit www.artsvisalia.org.
Kevin Bowman is the director of Arts Visalia and an instructor of art at College of the Sequoias.