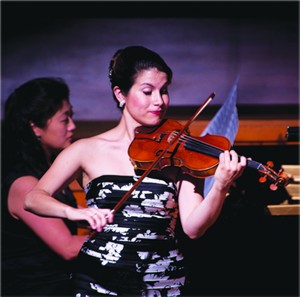 Center Stage Strings, one of North America's premier classical music camps, returns to the Santa Teresita Youth Center in Three Rivers with a lineup of world class faculty members and a growing tribe of enthusiastic students, 30 of them this year, who will arrive from all over the United States with their violins, violas and cellos strapped to their backs and ready to play.
Now in its fifth year, Center Stage Strings occupies a small but increasingly prestigious niche in the music world.
Unlike many music camps, which emphasize large ensemble and orchestral playing, instruction there focuses on virtuoso solo performance and small chamber groups. This focus places high demands on faculty, and even higher demands on students. Before being admitted to the camp, students undergo a rigorous examination and audition process, and the truth is you have to be really, really good to be accepted. Camp this year will run through July 20.
Once the camp begins, students receive several personal, one-on-one lessons per week, then practice for five or six hours every day, many of them taking up daytime residence in one of fifteen PractiCubes that were designed and built for this purpose in Three Rivers.
A good deal of every student's time is spent preparing for public concerts and master classes (which are also open to the public). This year, there are six free student concerts, including three Sunday afternoon matinees at 3pm and three casual Brown Bag Lunch performances on Fridays at 12:15pm.
In addition to student concerts, Center Stage Strings will present five professional faculty concerts. Some of the performers include award winning violinist Danielle Belen, Naumberg Prize-winning cellist David Requiro, and one of the music world's foremost violinists, internationally acclaimed Stefan Jackiw, who will be joined by pianist Jennie Jung.
The musical programs cover the gamut from Haydn and Mozart in the Classical Era, Mendelssohn in the Romantic, Impressionist Claude Debussy, the defiant Russians Shostakovich and Prokofiev, all the way to the modernist Witold Lutoslawski. All evening concerts will be held in the comfort of the air-conditioned Main Chapel at St. Anthony Retreat, with free performances in the casual Main Hall at the Youth Center, also air-conditioned.
Tickets are $12 for evening concerts and are available online, at Chump's DVDs in Three Rivers, and at the door. For more information, including a complete event calendar, visit www.CenterStageStrings.com or call 909-6900.