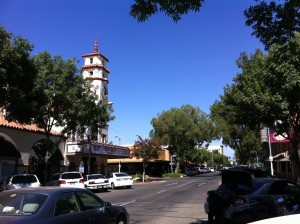 Dean Runyan Associates released its "California Travel Impacts by County, 1992-2012" report last month, which shows tourism now adds more than $400 million to the Tulare County economy. This reflects a steady increase in several spending and earning categories, with most now above their pre-recession levels.
Tulare County, its cities and its other travel destinations all contribute to promoting local tourism. Some marketing is done independently and some is a cooperative effort. This effort has evolved over the years.
"We've done tourism for a long time," said Eric Coyne, Tulare County tourism manager. "It used to be funded by a contribution by the county to the EDC." He noted that the county gave the Tulare County Economic Development Corporation between $60,000 and $90,000 each year, with part of that going to promote tourism. The county started its own dedicated tourism program in 2011.
"We wanted more say about how things were done and to make sure we have return on investment," said Coyne, who noted that the county currently spends $35,000 annually on its tourism program and has an additional $15,000 stake in regional tourism efforts.
The Visalia Convention & Visitors Bureau is a non-profit organization that is not a city department or part of the Visalia Chamber of Commerce. The city, however, supplies most of the funding for its $275,000 budget, with memberships from hotels, restaurants and attractions also contributing.
"We're critical in helping leisure travelers and business travelers," said Gail Zurek, tourism & marketing manager for the Visalia CVB. For business travellers, the organization helps meeting planners find the hotels and restaurants that best fit their needs. "For leisure travelers, we keep hearing over and over that we're this hidden gem. We tell them about our great seasonal menus and fresh fruit and our walkable downtown and our outdoor attractions."
The Visalia CVB is a member of the Sequoia Tourism Council, as is every chamber of commerce in the county, as well as the county itself. Zurek is the Visalia CVP representative on the council. "We recommend and support all of Tulare County's attractions," she said.
Coyne, the county's representative to the council, described this effort as "friendly cooperation."
"Tulare may spend money. Visalia may spend money. You get as much as you give by marketing locally," Coyne said. "We know that marketing makes a difference, but it's hard to quantify who exactly gets the result. But if you don't advertise, you know what you're going to get – nothing."
When asked what report numbers reflected most favorably on local tourism efforts, Zurek noted, "there has been growth" in the total direct travel spending numbers for Tulare County. Spending in the county in 2012 was up by over 10% between 2007 and 2012, despite the recession. Visitor spending more than doubled since 1992.
The report shows an increase of 430 tourism-related jobs between 2011 and 2012 (4,570 to 4,800), but still less than 2007 (4,970). Both Coyne and Zurek questioned the accuracy of these numbers.
"What's a tourism-related job?" Coyne asked rhetorically. "If you add another cook, how much of it is because of tourism? And who do you call a 'visitor'? Someone from Dinuba? Fresno? At some point, they are a visitor. They're down here for something."
"Folks go into our grocery stores; they're shopping our meat markets; they're buying gas," said Zurek. "It's all a piece of the pie. Tourism, by its nature, is incredibly difficult to track. No one wants to self-identify as a tourist. You can't, by standing at the entrance to Brewbaker's, identify who's a tourist and who's a local."
The impact of the Great Recession resulted in a 10% dip in visitor spending between 2008 and 2009, despite local tourism marketing.
"Local efforts obviously make a difference, but tourism spending is non-essential spending and it depends on the economy," said Coyne. "During the recession you saw a change in tourism patterns. Instead of east coast to west coast travel, you saw more 'staycations' (people visiting the attractions near their homes)."
During the recession, the county marketed the local national parks, as well as events such as the Iris Festival in Porterville and the rodeos, said Coyne. "Event marketing became very important. In a recession, how do you keep visitor spending going?"
The Great Recession was not the only recent economic challenge to local tourism, however.
"We know that the government shutdown (in October) cost the county probably $2 million," said Coyne. "We were on track for it to be a record year. This was a rare chance to make up ground because of the drought. The (mountain tourism) season had been extended through November."
The county works through local chapters of organizations to help bring national and regional conventions to Tulare County. A recent state convention of the American Planners Association resulted in more than 600 room-nights at local hotels and increased business for local restaurants.
The county assisted in bringing that event to the area, as well as a convention of the International Society of Citrus Nurserymen. To help bring that event here, the county worked with the local chapter and even held a reception at the group's convention in Santa Barbara, showcasing Valley cuisine, said Coyne.
The county recently had a marketing analysis done for its visitors' guide. The results showed that most people requesting the guide already have a trip to Tulare County planned, but that after receiving the guide, most of them stay longer, said Coyne. "What that told us is, by golly, you better have another visitors' guide because we know that's working."
"When people get information about our area, they realize there's so much to do they need to extend their trip," said Zurek. "If they know about us then they're going to stay and they're going to stay longer, and that means we have to keep telling them.
"What I see is that we are an affordable alternative for travellers because of all the natural attractions," she added. "When visitors come to our county, it's affordable because of those attractions. We don't have a theme park admission cost."
She said she would put local restaurants "toe-to-toe" with restaurants anywhere, and that the meal prices – even at our high-end restaurants – is still significantly less than similar restaurants elsewhere.
"I think we have to continue to showcase Visalia and Tulare County in a way that inspires visitors to explore Tulare County," said Zurek.
Coyne said the most effective form of tourism marketing is "word of mouth" from locals, such as waiters, cashiers and others who respond to visitors' questions about restaurants and attractions. "The best trip advice is from someone local. Everybody knows their favorite place to buy ice cream."