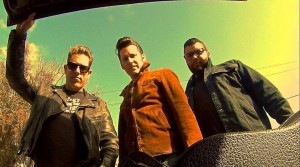 Motel Drive, which will release their new CD at their June 27th show at the Cellar Door in Visalia, perform American roots music, which lead singer/guitarist J.D. Goodwin described as "a combination of country, blues and rock n' roll – like the great American bands of the '50s, '60s and even '40s."
The band's musical influences include the Stray Cats, the Beatles, the Rolling Stones and Chuck Berry, who "kind of made rock n' roll what it is today." The band's music has also been shaped by country acts such as Hank Williams, George Jones and Hank Snow.
"I hesitate to call (our music) rock n' roll because we play a mix of everything," said Goodwin. "It's working man's music, something the average person can relate to."
This reflects a major change for Goodwin, who used to perform with Cacti Widders, which he described as "more punk rock."
"You evolve and you grow," he said. "I'm 34 and married and have a different outlook than I did before."
Motel Drive, which was formed in 2008, also includes Jake Finney, whom Goodwin met when he was 9 "and we've been best buds ever since. He convinced me to get a guitar because he got a bass."
Vince Ellis jammed with the band with his guitar and his lap steel for quite some time before becoming "a great addition to the band."
Goodwin, Finney and Ellis are from Fresno. Their drummer, Isaac "The Mexecutioner" Carrillo, is from Visalia. In addition to his musical talent – he also plays bass guitar and keyboards, and produces – "he's just a great guy to be around," Goodwin said. "Even if you weren't playing music, you just want to hang out with him."
Motel Drive won the 2012 Fan's Choice Award at Chuckchansi Casino's "Rock at the Top Battle of the Bands," and the 2010 Fresno State Battle of the Bands. College radio station KFSR (CSU Fresno) and Monterey Bay Area radio station KPIG hosted the band for live in-studio sets streamed across the Web. The band also made two live appearances on the KMPH-Fox morning news show, "Great Day." In 2011, the band toured its way to Austin for the SXSW music festival.
"Basically, what we do is stick to what we like," said Goodwin, who added the band plays covers of other bands about 25% of the time. "We play everything from Nirvana to the Beatles to the Rolling Stones. We kind of do covers and make them our own."
The band's new album, which includes 11 songs, is called Forever and a Day, a result of how long it took to finish it. "It took two years to put this album out," explained Goodwin. "Our old drummer went on to do other things and Isaac had to learn our songs. It was one thing after another."
Goodwin hopes to be doing basically the same thing for the foreseeable future – playing rock n' roll with the same guys, playing festivals and shows, and recording.
"I love playing Visalia," said Goodwin. "It's one of the raddest towns in the Valley." He likes to perform here once or twice a month. "If you come too often, people stop coming to see you. They've seen your act."
Performing with the band at the June 27th show will be Keith Crain, banjo player with The Whiskey and the Devil Chaplain; Mike Monteiro, original Motel Drive member and CD producer, on guitar and harmonica; and Jimmy Godfrey of Electric Grease, who plays harmonica on the CD.
DeeJay Savage Salvador will open the 21+ 9:30pm show. Tickets are $10 and include a free CD. The Cellar Door is located at 101 W. Main St., Visalia. For tickets or more information, visit ticketweb.com or snvfoundation.org.