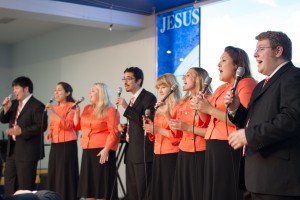 A Celebrant Singers team leaves Visalia this month to travel across the United States and to France on a summer mission. This team of 26 young people, 10 from the Visalia area and 16 from other states and countries, will start this mission with two local concerts. As they travel across the U.S., the team will present concerts almost daily.
A second team will come together in July and will travel to Guatemala to share the love of God with people in that country. This team will also perform a local concert before their trip.
Local concerts are scheduled for Thursday, June 12, at First Baptist Church in Three Rivers, and Friday, June 13, at Jesus Name Cameron Creek Church in Farmersville. These missions conclude with the 37th Annual Homecoming Concert in Visalia on Saturday, August 9, at 7pm at L.J. Williams Theater.
For more information, call 740-4000 or visit www.celebrants.org.