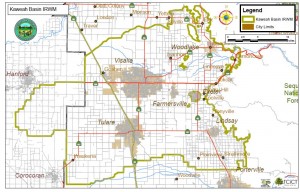 Tulare County currently has funding available to plug and cap private unused wells within the boundaries of the Kaweah Delta Water Conservation District. There is no cost to the property owner to participate in the abandoned well program, and all work will be completed by a licensed contractor.
The county is currently working with Self-Help Enterprises to sign up property owners who wish to have their unused wells properly closed and sealed. If you have an old, unused well and would like to participate in the county's no-cost program, call Self-Help Enterprises staff member Shauna Dolin at 802-1647.
The abandoned well program funding is available to property owners who reside in and around the rural areas of Visalia, Goshen, West Goshen, Tulare, Waukena, Farmersville, Woodlake, Ivanhoe, Elderwood, Woodlake, Lemoncove, Lindcove, Yokohl Valley, Exeter, Tooleville, Tonyville, Lindsay, Plainview, Strathmore and Tract 92 – the Kaweah Delta Water Conservation District. There are no income restrictions, and rural areas within the Kaweah Delta Water Conservation District qualify for the program.
Unused or abandoned wells can be a safety hazard and can contaminate groundwater. An abandoned well is a direct conduit from the surface to the groundwater below. Contaminants that enter the well can flow directly down into the groundwater without the natural filtration of soils. There is also a risk of injury to people and animals if a well is not covered.
Properly plugging a well helps keep your water supply safe, removes a potential threat to your family's health, and reduces your liability and protects the value of your property.
All landowners with an abandoned well are responsible for the proper plugging of that well. As stated in the Tulare County Water Well Ordinance, "It is the duty of every owner of land on which there is a well which is not being used to cap the well or [put in place] a watertight seal… Any well which has been placed inactive for a period of more than one year shall be deemed abandoned and be required to properly destroy said well…" (TC Ordinance Code §4-13-1740).
This project is funded by a grant from the Department of Water Resources.
Learn more about the program by visiting http://www.selfhelpenterprises.org/.