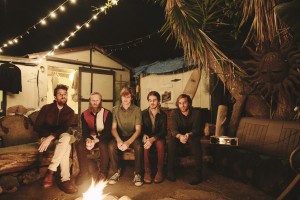 Sound N Vision will present a 9:30pm show with James Supercave and OMO on Friday, May 9, and follow that up with Gardens & Villa and Rogues at an 8pm show on Saturday, May 10. Both shows will be at the Cellar Door in downtown Visalia.
Hailing from Los Angeles, James Supercave consists of Joaquin Pastor (lead vocals, guitar, piano), Patrick Logothetti (synths, keyboards), Andres Villalobos (guitar, backing vocals) and Jaysun Rickards (bass). The new band has already gained attention as a result of their explosive live show, which has landed them on tour with indie rock royalty bands Warpaint and Future Islands. James Supercave music is often compared to like-minded artists such as Foster the People and MGMT.
Fresno's lovely female piano-playing soul singer OMO will kick off the night, making her Cellar Door debut. Tickets for the 21+ show are $7.
Gardens & Villa is the project of five college friends from Santa Barbara. After releasing their acclaimed self-titled debut album in 2011, the band toured relentlessly and honed their live show to near perfection. This resulted in the band being asked to play festivals such as Coachella and Outside Lands.
Three years later, the band has released their sophomore album, "Dunes," which is more synthesizer-heavy than their past work, making for an even more kinetic live show. Their naturalistic-pop pulls equally from indie-rock influences of the past, while tonally landing amongst the best of the modern. Lately, their audiences have gotten bigger and the big festivals are still calling for the band.
Fresno indie rock band Rogues will open the night, making their Cellar Door debut. Tickets for the 21+ show are $8.