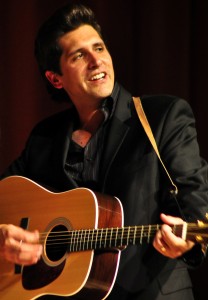 The Johnny Cash Tribute Show featuring James Garner will come to the Lindsay Community Theater for a 7:30pm show on May 10. Garner's show celebrates the life and music of the legendary "Man in Black" with hits like "Folsom Prison Blues," "I Walk the Line" and "Ring of Fire."
With strong conviction and stunning accuracy, Garner and his band perform Cash's music and incorporate historical accounts and personal anecdotes about this beloved singing storyteller. The show is a fun, toe-tapping trip down memory lane honoring Cash's life and the boom-chicka-boom sound of his longtime backing band, the Tennessee Three.
The Johnny Cash Tribute Show is the last show in the 2013-14 concert series at the Lindsay Community Theater. Tickets are $15 in advance and $20 at the door, and available at lindsaycommunitytheater.com. For more information, call 284-2223 or 647-6577.
The Lindsay Community Theater's 2014-15 season will include country singer Randy Sharp, the Celebrant Singers, Joni Morris' Tribute to Patsy Cline, Tempest Celtic Rock, The California Melody Boys, and western singer Juni Fisher.