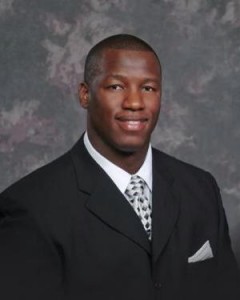 With over twenty years and counting of public service — including work with the Tulare and Fresno City Fire Departments and over six years serving on the Tulare City Council — Carlton Jones is running for State Assembly District 26. He wants to take a common sense approach for finding solutions to the state level.
WHY ARE YOU RUNNING?
In my case, it would be all about timing. My introduction to politics started back in high school. My dream was to be a fireman – and after playing collegiate sports and coming back home to Tulare, where I was born and raised and love it – I got to be a fireman, which introduced me to the city council. In 2004, I was on the council, from 2004 to 2008, and I was re-elected in 2012. With our local representative, Connie Conway, terming out at the State Assembly, I felt the experience that I have, being as a councilman, being as a public employee – I'm a hometown guy, and I see the disconnect that our area, District 26, the strained relationship that we have with the capital, and I want to repair that so we have quality representation there.
HOW CAN YOU FEEL CONFIDENT IN SUCH A STRONGLY REPUBLICAN DISTRICT?
I think at the end of the day, people just want true representation, and one of my goals is to make sure that people see that your name is bigger than your party on the ballot sheet, and that it's for a reason. The message that we have and the message we need to deliver should be bigger than the party itself. That's how I've always been as a council member, that's how I've always been as a firefighter, as a person in church, and in those different aspects of my life the party wasn't an issue. The people that I represent, and the people that believe in me, the party is not an issue.
I HEARD YOU HAVE TWO CAMPAIGN MANAGERS. HOW IS THAT WORKING?
Actually, I have three. Well, my wife is actually my life manager, and then Abigail Solis is a campaign manager and Becky Shields is my branding and marketing specialist. And they're all campaign managers. And they all give me great advice. They all believe in and stand up for what I believe in. It's interesting how my team came together and started. I met Abigail when she was working for a water company in Visalia, and as issue was raised in the water bills in Tulare, and she came and made a presentation before our city council. With water being a huge issue, I recruited her. I've never pretended to be the master at anything, but when you're seeking expert advice, when you're building a team, you definitely want to surround yourself by people who know different areas a lot better than you do. So I can learn from them, I can use them as a resource, and that's how I recruited Abigail. And then Becky Shields came highly recommended from close friends that said she is a master at marketing. You look and compare my branding, the image that she put out for me, and just the artwork itself is hands above the competition. And she's doing an amazing job at it. Her advice has been keeping me calm and keeping me grounded, and reminding me why I'm running. Between Abigail, my wife – my wife, first of all, because she sees me when they don't – there is a constant encouragement that probably means more than anything to me.
Between my wife, Abigail, and Becky Shields, they keep me into it pretty good.
HOW ARE YOU DIFFERENT FROM OTHER DEMOCRATS?
You know, I don't know. To answer that question, I would have to know what all other Democrats are like, and I tell people that's our biggest blessing – one of the things our military fights for is our right to be different, our right to be individuals. You know, I would hope I'm different just based off of my life experiences. I appreciate other people's differences. I really try not to make this as Carlton running against anyone else. To me that's when politics are broke, when one person is running against another person. The way I look at it, and I've always looked at it like this, is there's a seat available. I'm going to show everyone and tell everyone the type of representative I want to be, and encourage them to vote for me and try to listen, and show them my goals and the way I want to deliver their message – it isn't my own message, it's the district's message – and stay away from running against anybody else. I'm running for a seat, and it wouldn't matter who else is running for that seat, that I'm running for that seat. Or if nobody else is running, my goal is the seat of District 26, not to beat anyone. I'm not running against anyone.
HOW DO YOU THINK GOVERNOR BROWN IS DOING?
Currently, I represent a small district of the city of Tulare, which I hope that people will see that I'm representing the entire Tulare, which is made up of 65,000 people. I'm running for a district that represents 450,000 people, and I'm seeing the challenges that they feel there. Any governor, he represents the entire state. He represents a state that is extremely divided, and as a coach I always tell people it's not my job to teach people how to play the sport – it's my job to get them to play together. In the political realm it's the same thing, especially when you're a partisan representative. He's still the entire state's governor. He's still the Governor of California. And when we're so divided by party, you know, I understand his challenges. I've prayed for him. I hope at the end of the day when he leaves his seat, he can look back and be proud of himself. My job as a Californian is, he's our governor right now and until the voters say something different, I'm going to support him. And it would be the same if I was a state official. As a State Assemblyman, he would be my governor, and I want to work with him. My goal isn't to change the way he does his seat, it's to change the way we're looked at here in District 26.
WHAT ARE YOUR VIEWS ON GUNS?
I believe in the Second Amendment. I don't believe that individuals should own tanks. We shouldn't be able to out-arm our military. We need to hold any criminal, regardless if it's a crime with a gun or not, we need to hold them accountable for the letter of the law. You know, I'm a firm believer that it's the person who commits the crime and it's not what they commit the crime with. I don't own guns now, but I have in the past and I was a responsible gun owner. And I think there are a lot of responsible gun owners who get labeled by the bad actions of individuals. And that's the same with anything.
THE ACA IS NOT GOING TO COVER UNDOCUMENTED PEOPLE. WHAT DO YOU THINK ABOUT THAT?
I don't thinks that's right. I think if you're here working and you're paying taxes into it you should be afforded the benefits of that system.
WHAT ARE YOUR VIEWS ON FRACKING?
I disagree with it because anything that does unknown damage isn't safe. And for the benefits it may have as far as the economy, it's twice as bad for the environment.
WHAT ARE YOUR VIEWS ON THE HIGH-SPEED RAIL?
The high-speed rail is in my opinion something that can be good. And this is my personal opinion. Here's an opportunity to create jobs to kind of diversify our investment as a district. But once again, I represent a district. And my personal opinion would just be a part of the message that needs to be delivered. So, at the end of the day if I'm for high-speed rail and the majority of my constituents are against it, then the message I need to deliver to Sacramento is that we're against it.