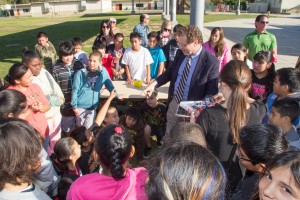 Highland Elementary School students experienced a hands-on lesson in solar power at the ceremonial unveiling of Visalia Unified School District's new solar installations.
The sixth-grade students learned the basics of how sunshine becomes air conditioning in their classrooms, used solar power to run a small fan and then connected each of the small solar panels to replicate the larger solar installations on their campus.
Highland Elementary School is one of the 12 VUSD campuses that now have solar panels providing shade over parking lots and playgrounds, and providing power that is expected to save the district over $2 million in the first five years, according to VUSD Superintendent Craig Wheaton.
"That's real money – money that will stay in the general fund for kids and campuses," added Rick Brown, president of TerraVerde Renewable Partners, the consultant on the solar project.
Brown explained that the solar projects, partially funded by Measure E, will be monitored "in real time" to ensure their proper operation. Should a problem arise, the school district will be quickly informed so that the concern can be rectified.
VUSD has taken strides in recent years to reduce energy costs, but the demand for power during early fall and late spring caused the district to incur costly peak usage fees, while the summertime usage was generally low. The solar installation allows the district to collect power during the summer months to offset costs during the school year.
For more information on solar and other Measure E-funded projects, call Robert Groeber at 730-7529, or Craig Wheaton at 730-7522.