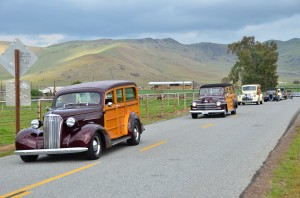 The Central Valley Woodie Club, the local chapter of the National Woodie Club, has scheduled its eighth annual "Woodies in the Valley" event for March 7-9 in Visalia.
"This is not an ordinary car show," explains Club President Wayne Yada. "It is limited to only wooden-bodied cars, which were only made in this country from 1928-1951. We will host some original woodies, some restored and some modified – all very unique. They are coming to this event from all over the state."
The festivities will begin with a Friday night welcoming reception at the downtown A&W Drive-In, and continue with Saturday activities including the "show 'n shine" on the front lawn of Redwood High School, a scenic afternoon cruise and optional group dinner. The woodies will be available at the A&W event for public viewing. The "show 'n shine" on Saturday will be open to the public free of charge from 8:30am until 1:30pm. All woodie and car enthusiasts are encouraged to attend.
For more information, visit www.valleywoodies.com or call Yada at 967-1357.