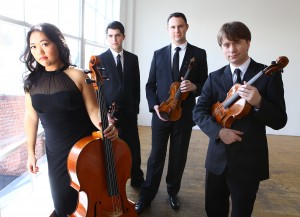 The Calidore String Quartet will premier a new composition by popular Tulare County composer Ken Elias when it performs for Music at the Main in Visalia on March 9. The piece, "Possibility of Grace," was created to accompany a poem of the same name written by Bill Haxton, also of Tulare County.
Since coming together at the end of 2010, the Calidore String Quartet has taken the classical music world by storm. In two years, they won grand prizes at the Fischoff, the Chesapeake, the Yellowsprings and the Coleman Competitions in North America, and top prizes in Europe at the ARD Munich and the Hamburg International Competitions.
The quartet performs with the rare combination of emotional power and grace. As individuals, the players – Jeffrey Myers, Ryan Meehan, Jeremy Berry and Estelle Choi – are extraordinary musicians, and their mentors are among the best in the world – Arnold Steinhardt, former lead violin in the world famous Guarneri Quartet; and string ensemble master André Roy, who travels regularly from his home in Canada to work with Calidore at the Colburn Conservatory in Los Angeles. Under Steinhardt and Roy's guidance, Calidore has absorbed a decade of growth in three years and was recently signed by Opus 3, one of the most prestigious management firms in classical music.
The program features: Beethoven's lyrical and fiery "String Quartet No. 1 in F"; Schubert's majestic and introspective "String Quartet No. 14 in D Minor," better known as "Death and the Maiden"; and Elias and Haxton's "Possibility of Grace."
The March 9th show will begin at 3pm at the Main Street Theater, 307 E. Main St., Visalia. As a result of a sponsorship from Brent Baker at Kings Mortgage, ticket prices have been reduced to $12. Tickets are available online at www.musicatthemain.org, or at the door. Children with an accompanying adult are admitted free.