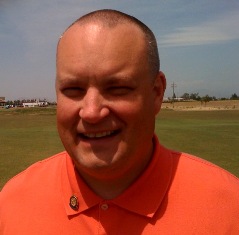 Joseph Wisocki IV, KemperSports general manager at Ridge Creek Dinuba, was named Golf Professional of the Year by the San Joaquin Valley Chapter of the Northern California Professional Golfers Association. The San Joaquin Valley Chapter consists of more than 100 golf professionals from Visalia to Stockton.
"It is with great pleasure that the City of Dinuba congratulates Ridge Creek Golf Club General Manager Joe Wisocki on being named the NCPGA San Joaquin Valley Chapter Golf Professional of the Year," said Dinuba City Manager Beth Nunes. "Mr. Wisocki has demonstrated the leadership and ability to grow Ridge Creek Golf Club into the premier golf course that it is today. The city is proud to partner with Mr. Wisocki and KemperSports to continue to offer a high quality course and service to the community of Dinuba."
Ridge Creek Dinuba Golf Club is owned by the City of Dinuba and managed by KemperSports since its inception. Scottsdale, Arizona-based John Fought designed the par 72, upscale daily-fee course, strategically incorporating natural grasses and bunkers to produce a heathland golf experience as found in the classic courses of England. Ridge Creek Dinuba Golf Club also offers a state-of-the-art, 360-degree practice facility and a full service restaurant and bar, Three Finger Jack's, which is open daily for breakfast, lunch and dinner.
KemperSports builds, owns and manages golf courses, resorts, athletic clubs and lodging venues across the U.S., Caribbean and Central America. The company's award-winning portfolio includes nationally-ranked courses and tournament venues such as Bandon Dunes Golf Resort, named the No. 1 Golf Resort in North America by Golf Digest and GOLF magazine; The Glen Club; Bolingbrook Golf Club in Bolingbrook, IL; Desert Willow Golf Resort; Harbor Shores, site of the 2012 and 2014 Senior PGA Championship presented by KitchenAid; and Chambers Bay, host of the 2010 U.S. Amateur and the 2015 U.S. Open. For more information about KemperSports, visit www.kempersports.com.