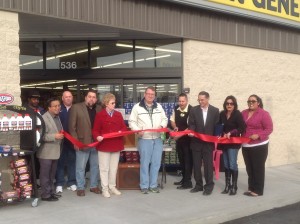 South Tulare County residents now have another retail option in the unincorporated community of Earlimart.
The nation's newest Dollar General opened its doors at the White River Plaza, located at the northeastern corner of Avenue 56 (Sierra Highway) and CA State Route 99 on Saturday, February 15. The 9,100-square-foot building officially opened to the public with a ribbon-cutting ceremony featuring prizes, store giveaways and food.
"This project really raises the bar and sets the standard," said Supervisor Phil Cox, chairman of the Tulare County Board of Supervisors, during his opening remarks at the event. "We are excited to have Dollar General here in Earlimart. They are going to make a difference in this community."
Dollar General District Manager Bob Munoz noted that the Dollar General stores in the Southern San Joaquin Valley generate the highest average per store sales than anywhere else in the country.
"Dollar General has more retail locations in the United States than any other retailer, with over 11,000 stores in 40 states from coast to coast," said Michael Washam, Tulare County Economic Development manager. "The new store will offer shoppers the products they use and replenish most frequently, such as packaged foods, snacks, pet supplies, health and beauty aids, cleaning supplies, paper products, basic apparel, housewares and seasonal items."
The Dollar General store is the second retailer to open at the White River Plaza development project. An AutoZone store opened its doors on December 12. The White River Plaza development represents the largest retail commercial development ever built within the community of Earlimart. Additional businesses are planned, including: a supermarket, national fast-food restaurants, and other retail and service businesses. White River Plaza should see more store openings in the latter part of 2014.
White River Plaza is a 7.5-acre development project that was approved in 2013 by the Tulare County Board of Supervisors. The project is being developed by two local economic development professionals, Tom Hocking and Max Bacerra.
"It is wonderful to be a part of the economic growth and progress of the Earlimart community," said Bacerra, principal of White River Plaza, LLC. "There are a variety of new retail and commercial opportunities that will be added to the White River Plaza retail shopping center. We plan to roll out more uses and businesses in 2014."