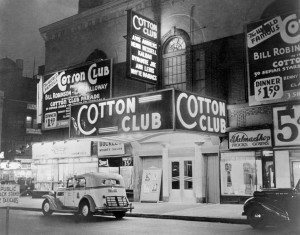 "Sometimes, I feel discriminated against, but it does not make me angry. It merely astonishes me. How can any deny themselves the pleasure of my company? It's beyond me."
This famous quote by folklorist and writer Zora Neale Hurston gives us a glimpse into the period in time that inspired her works. The Harlem Renaissance (c. 1918–1935) was a blossoming of African American creative arts associated with the larger New Negro movement, a concept of cultural pluralism inspiring notions of the United States as the first "transnational" nation, in which diverse heritages should develop side-by-side in harmony rather than be "melted" together or ranked on a scale of evolving "civilization."
W.E.B. Du Bois, the dominant black intellectual of the day, already advocated a position similar to this in his famous book, The Souls of Black Folk (1903), a defining text of the New Negro movement, fueled primarily by a need for American intellectuals to define "American" culture distinct from that of Europe's.
Social foundations of the movement included the Great Migration of African Americans from rural to urban spaces and from South to the North, dramatically rising levels of literacy. National organizations developed at this time that were dedicated to pressing African American civil rights (NAACP), "uplifting" the race and opening up socio-economic opportunities (National Urban League), and developing race pride, including Pan-African sensibilities and programs (the United Negro Improvement Association and the Pan-African Conferences) led by Marcus Garvey.
The prestige of these revolutionary experiments caused African American intellectuals to look on African artistic traditions with new appreciation and to imagine new forms of self-representation, a desire reinforced by rising interest in black history. Black History Week, now Black History Month, was first celebrated in 1928 at the instigation of the historian Carter G. Woodson.
Cultural awareness and independence supports the expansion of ideas and creativity. The Harlem Renaissance gives proof of this with the evidence in its music, fashion and arts. Nothing brings people together quite like music, and jazz did just that by opening doors–although quite often the backdoors–to many African American musicians. The Cotton Club was one of the most famous "whites only" establishments, operating most notably during prohibition. It opened in 1923, on 142nd Street and Lenox Avenue in the heart of Harlem, and then in the midtown Theater District after it closed due to the race riots of Harlem. The decor of the club looked to mimic a plantation and the African American employees dressed as savages and/or slaves. Shows regularly included dancing, singing and comedic acts, and featured many of the best black entertainers and jazz musicians of the era including Lena Horne, Fletcher Henderson, Duke Ellington, Count Basie, Bessie Smith, Cab Calloway, Fats Waller, Louis Armstrong, Nat King Cole, Ella Fitzgerald and Billie Holliday. During its heyday, the Cotton Club served as a hip meeting spot featuring regular "Celebrity Nights" on Sundays, which featured celebrity guests such as Langston Hughes and Zora Neale Hurston.
The most well-known white man to bring attention to the "Harlem" Renaissance was undoubtedly Carl Van Vechten, whose music criticism extolled jazz and blues and whose provocatively titled novel Nigger Heaven (1926) helped spread the Negro Vogue, serving virtually as a tourist guide to Harlem and capitalizing on the supposed "exotic" aspects of black urban life, even while focusing, primarily, on the frustrations of black urban professionals and aspiring writers. Vilified by many but defended by the likes of Hughes, James Weldon Johnson and Nella Larsen, Van Vechten became a key contact for several black artists and authors because of his interracial parties and publishing connections.
Fashion was another notable part of the period. Escaping from the rural South for many was inspiration to experiment with fringe and fur styles that were extravagant but gave allowances for the equally extravagant dance styles of the time. Stylists pay homage to Harlem Renaissance fashion by continuously reinventing them for current trends.
Many artistic contributions were made during the time and some may argue none captured the theme of Harlem like its artists. Artists at the core of the Harlem Renaissance movement included William H. Johnson, Lois Mailou Jones, Romare Bearden, Jacob Lawrence, Charles Sebree, Hale Woodruff, Beauford Delaney and Ernie Barnes.
The Harlem Renaissance is an important part of black history. Its influences can be seen in the music, fashion and overall theme of the black presence in American culture today.
The Black History Committee of Hanford will present a glimpse into this influential part of American History with a show that includes presentations, visuals of fashion and art, depictions of prominent figures, musical performances and more. The City of Hanford is also heavily involved through its recreation department.
"The Harlem Renaissance" will be presented Saturday, February 22, at the Civic Auditorium in Hanford. Doors open at 5pm and tickets can be purchased in advance through the Hanford Recreation Department. For more information, call 585-2525 or 309-3360.