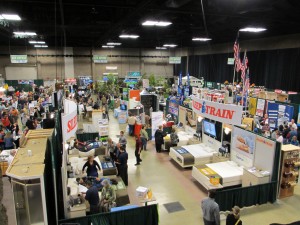 The 21st Annual Visalia Springfest – the South Valley's largest Home Show – returns to the Visalia Convention Center, February 7-9. Many new companies have joined this year's show, which features more 350 home and patio exhibits.
"This year we are proud to bring Steven Katkowsky, one of the most popular speakers at home and garden shows, to Springfest," said Steve Tarter, show manager.
Katkowsky has been designing and remodeling kitchens and bathrooms in the San Francisco Bay Area for more than 30 years. His presentations will include ways to increase storage space in kitchen/bath areas; how to add rooms in the garden; and reasons to reorganize oneself to a green lifestyle.
In addition, in the show's Seminar Area, pros from Master Gardeners, The Home Depot and Orchard Supply Hardware will teach how to do things like make modern mirrors, build simple workbenches, or even attract "the right" birds to the backyard.
On the Eucalyptus Courtyard, kids can join the Home Depot Team and build a craft to keep with a certificate of achievement, a workshop apron and commemorative pin.
Show hours are: Friday, from noon to 7pm; Saturday, 10am to 7pm; and Sunday, 10am to 5pm. General admission is $8 and senior admission (62+) is $6. Children under 12 are admitted free. Save $2 off general admission (only) when you bring a non-perishable food item to support Foodlink.
For more information, visit www.VisaliaHomeShows.com or call 713-4000.