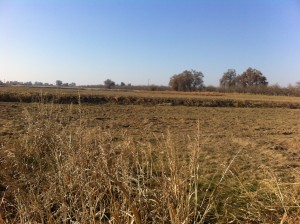 Construction on a new $8.6 million solar project in Farmersville could begin as early as this month.
"We've been approved by the city of Farmersville Planning Commission and expect to start construction by the end of January," said Don Watson, president of ImMODO Energy Services Corporation in Visalia.
"It was great working with the city of Farmersville," he added, describing the process as "smooth."
The site is currently a 19-acre dirt lot located at the west end of Terry Avenue in the northern part of Farmersville.
"It's a good strategic location and in the middle of the Visalia and Farmersville area," Watson said. "It's close to where people will use the electricity."
The power generated by the project will serve the needs of about 1,000 households in Tulare County, according to Watson. The project will also bring jobs to the area.
"On a project like this, during the construction the payroll is $300,000 just to employees," said Michael Washam, county economic development manager, comparing it to a similarly sized project in Tulare. He added that another $600,000 would likely go to local subcontractors who do work such as fabricating the metal framing for the solar panels.
Construction usually takes between two to three months to complete, according to Hector Uriarte, green jobs coordinator at Proteus, Inc. in Visalia, which has been training and placing workers in solar projects in Tulare County.
"We also have a lot of demand in Kern County where they are asking for solar installers," he said, noting that the majority of solar construction in the Valley is in Tulare and Kern counties. "We're very fortunate to have that here in Tulare County."
But how fortunate is Farmersville to have this large project?
There are property taxes on the site, but "because it's a clean energy project, other than the assessed property value, there's no other revenue," said Farmersville City Manager Mario Krstic.
"One of the advantages is that it's on property where currently nothing takes place," he said, adding that the property has no agricultural value and "had no other industrial use. It does fill the space and provide a renewable energy source."
And although most of the jobs offered by the project are in its construction and as a result are temporary, "They've been committed to hiring as many local folks as they can," Krstic said. "But once the plants are installed, they pretty much sit there and do their thing."
The solar energy industry is a rapidly growing business in the South Valley and that may eventually have additional benefits for the city of Farmersville.
"We've been talking to Farmersville High School," Watson said, adding that solar career opportunities will be posted on a kiosk on campus. "It will help explain what solar is and what the jobs in the solar energy are like."