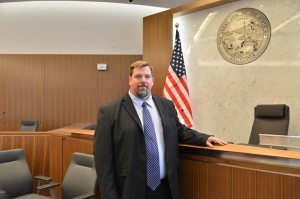 Ralph Kaelble, candidate for Tulare County District Attorney, has accused his opponent Tim Ward of "playing politics" after his wife Afreen Kaelble was recently fired from her position as a Supervising District Attorney.
Ward, the current District Attorney, is running against Ralph Kaelble in the upcoming June elections. Kaelble has earned a number of endorsements from officer's associations across the county, including the Visalia and Tulare Officer's Associations.
Afreen Kaelble served at the Tulare County D.A.'s office for 14 years without issue, Ralph Kaelble said, adding that the firing was "a severe blow to their ability to fight crime when politics won over the safety of our community."
"I always found Afreen Kaelble to be an excellent prosecutor who was concerned for the victims of crime. I was very concerned to hear that she had been forced out of the District Attorney's office because she was married to a political opponent of the appointed district attorney," Don Gallian, a retired Tulare County Assistant District Attorney, said. "The people of Tulare County are never served when politics is put ahead of public safety as the primary concern of the appointed District Attorney."
"For someone who has been given the responsibility to protect our families from crime, this action only shows that playing politics trumps what is really important," Kaelble said in a press release.
"The people of Tulare County deserve better. The Appointed D.A. must think we are in Louisiana with their long history of political corruption, rather than in Tulare County. Putting an end to this nonsense is one of the main reasons I am running for office. It has been going on for far too long."