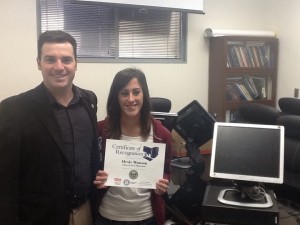 The Tulare County Board of Supervisors, Tulare County Office of Education, Visalia Rotary clubs and Office Depot partnered together to deliver 110 computers to selected children from 45 schools on December 11. School officials nominated the students to receive computers based on their outstanding character and good citizenship.
The county contributed the computers and matching flat screens that were due to be sold as surplus. The Tulare County Purchasing Department tested the computers, erased all sensitive files and proprietary software, and installed fresh Windows XP operating systems.
County staff, Rotarians and other volunteers met at the Tulare County Surplus Store that morning and loaded up vehicles with the computers and delivered them. The chosen students and most of their teachers were unaware of the gifts until they were delivered.