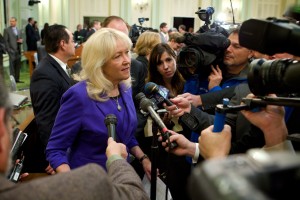 California Assembly Republicans announced the creation of new financial aid guide – payingforcollegeca.com – an online resource to help California students learn about scholarships and grants available to them as they seek ways to pay for college.
"It is a tragedy that the dream of a higher education is out of reach for too many young people because they can't afford it," said Assembly Republican Leader Connie Conway, of Tulare. "Keeping higher education affordable for California's students is an important priority for Assembly Republicans and that's why we've put together this new online guide to paying for college."
On the online "Guide to Paying for College," students can learn about state, federal and private scholarship resources in a convenient one-stop shop. Included on the site are:
A downloadable "financial aid checklist" with the steps that students must take in the months before they start school to apply for and receive the aid they need to pay for college;
Detailed information on available state and federal financial aid, including a step-by-step guide on how to apply for Cal Grants;
Resources on financial aid programs available for California's veterans and military families; and
Information on hundreds of different private scholarships available to students.
Assembly Republicans have continually fought to make higher education a top budget priority and increase college affordability for California's students. Among the measures proposed by GOP lawmakers this session are:
Assembly Bill 67 (Olsen, Gorell and Chávez) would freeze tuition at UC and CSU campuses for the next four years.
Assembly Bills 51 and 181 (Logue) would create a pilot program for certain college majors to earn Bachelor's degrees for no more than $10,000 at a CSU campus and no more than $20,000 at a UC campus, including the costs of textbooks.
Assembly Bill 1085 (Gaines and Morrell) would restore full Cal Grant awards for thousands of private school students whose Cal Grants are scheduled to be reduced starting in the 2013-14 school year.
Assembly Bill 13 (Chávez) would allow recently discharged, released or retired members of the Armed Forces living in California, to attend a California State University or a California Community College while paying in-state tuition for up to one year.
"California's students must have access to an affordable college education so they can meet the demands of employers and get a good-paying job," said Conway. "Our new website will hopefully help more students receive the financial assistance they need to pay their tuition bills and receive the strong foundation they need to succeed in whatever field they choose."