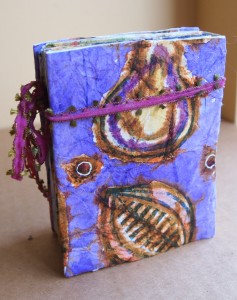 The autumn fine art workshop from the Arts Alliance of Three Rivers, "Crinkly Inkly Bookmaking," will be taught by Helen Shafer Garcia, a mixed media artist from the San Diego area. The two-day workshop will be held on October 19-20, from 10 a.m. to 4 p.m., at the Saint Anthony Retreat in Three Rivers.
Participants will explore a special batik-like technique with Masa rice paper to create two extraordinary "inkly crinkly books" – multi-signature, end-band, hand-bound books.
The batik-like pattern is made by crinkling up a Japanese rice paper, which has a surface suitable for paint. The paper is then soaked in water and unfolded to allow the crinkles to act like ravines in which the paint is allowed to flow, creating a crackled look. Watercolor pigments are added to the paper via "hue fusion," a "dropped-in-color" approach to painting.
"Instead of taking the brush and running it across the paper, you take the loaded brush, saturated with paint pigment and water, and touch the brush to wet surface of the watercolor paper," Garcia explains. "The pigments gently fuse together on the paper creating beautiful transitions."
The specially made papers will be enhanced with stamps, acrylic inks and watercolor washes. Then they will be hand bound with unique bookbinding techniques to stitch signatures with end bands.
Garcia is a painter, mixed-media, found object and assemblage artist and award-winning illustrator. Her whimsical style shows a love for living creatively with a studio filled to the brim with found objects. She is currently working with watercolor, pastel and mixed media creating contemporary images on paper, along with a series of icon folklore triptychs with wood, water media and found object construction.
Her watercolor illustrations have graced brochures, garden articles and advertisements of numerous international resorts and magazines. Her awards include four San Diego Press Club First Place Awards of Excellence in Illustration.
Garcia holds a BA degree in fine arts and currently teaches watercolor and acrylic painting at Palomar College in San Marcos. She also teaches mixed media workshops internationally and across the U.S. She lives in Vista.
Registration is $210 for Arts Alliance Members, $250 for non-members. Fee includes lunch both days, provided by Saint Anthony Retreat.
A registration form is available at artsalliancethreerivers.org or call 561-4671.